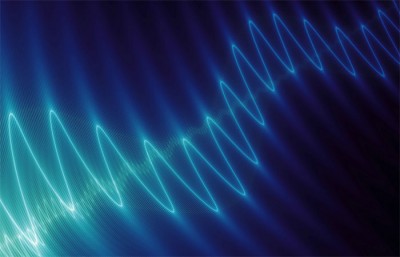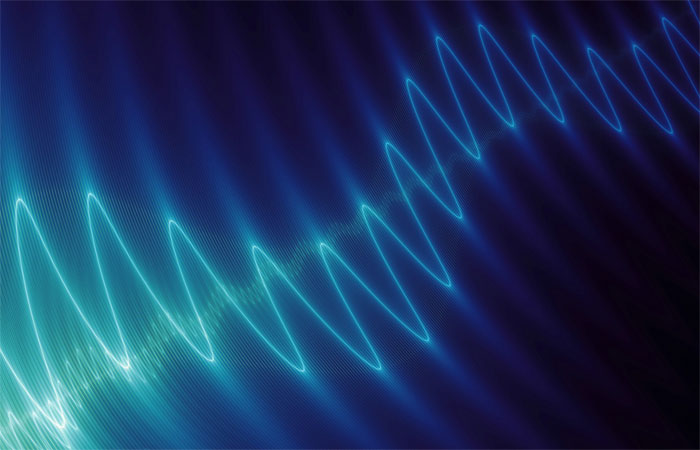 What we perceive as sound is air pressure changing over time.  In electronics, sound is represented as a signal that changes over time (AC waveform).  Speakers are used to convert these electrical signals into changes in sound pressure that we can actually hear.
The shape of the waveform (how the voltage changes over time) determines what the signal actually sounds like, or its timbre.  A simple tone can sound soft, smooth, harsh, buzzy, like a beep, like a bell, etc. depending on its shape.  The shapes can get really complex and even be completely random, but here are a few basic ones that actually have names.  You can see what they look like and click to hear them.
Sine Wave

You may remember this one from the last chapter.  It goes up, slows down as it reaches the top, switches directions, then accelerates down below 0.  It slows down as it reaches the bottom, switches directions and accelerates back up.
Square Wave
This wave is basically positive for half a cycle, then negative for half a cycle.
Triangle Wave

This wave goes up until it hits the top, then instantly switches directions and heads toward the bottom.  Once it hits the bottom it instantly reverses and heads back to the top.  There is no acceleration and deceleration as in a sine wave.
Sawtooth / Ramp Wave

The signal starts at the bottom and works its way to the top.  Once there, it immediately drops back to the bottom and starts over again.  A sawtooth can also be flipped around so that it starts at the top and works its way down.
The terms "sawtooth" and "ramp" are fairly interchangeable.  Some people call one a sawtooth and the reversed version a ramp, but there isn't much consistency in which is called which.
Noise
This isn't really a repeating waveform, but a random signal.
There are a few other properties of a waveform that affect how it sounds.
Amplitude
This is basically how "big" the signal is, or how far above and below the 0 line it swings.  The larger the amplitude, the louder the sound.
In the above picture, the second waveform has twice the amplitude of the first waveform.
Frequency
The faster the signal changes, the higher in pitch it sounds.  Frequency is usually measured in Hertz (Hz), which basically means cycles per second.  If one were to double the frequency of a tone, it would sound 1 octave higher.  For instance, a 440Hz tone in musical terms is known as the note A.  An 880Hz tone would also be an A, but one octave higher.
In the above picture, the second waveform is twice the frequency of the first one.